NOELLE NOONAN
Noelle Noonan's projects include; World Within Worlds, (Hehir & Noonan Collaborative Practice), Hannah McClure Gallery, Print Festival Scotland; A Room with Your Views, House, (Gillian Wearing, Global Collaboration) Brighton Festival; Impact 9, China 2015 (Hehir & Noonan); Escape Shift, Cork; The Belltable, Limerick; St. Carthage Hall, Lismore Castle Arts, Waterford and Impact 8, Dundee, Scotland. Her work has been exhibited in Deception and Sacrifice, Southern Graphics International Conference San Francisco (2014); Print Installation Honolulu, Academy Art Centre, Hawaii, (USA) and An Eire of the Senses, Irish Contemporary Art at the Ireland World Expo Pavillion, 411 Galleries, Shanghai, China.

Noelle has participated in residencies at Tyrone Guthrie Centre, Monaghan 2015 & 2016, Ireland; the Cill Rialaig Project, Co Kerry; Magypolany, Hungary; The Royal University College of Fine Arts Stockholm, Sweden and the Essendine Centre, London. She was selected as the Irish candidate to participate in Temporary Residency 3 Honolulu, USA. Noelle is currently employed as lecturer in Print and Contemporary Practice at Limerick School of Art and Design.


ARTIST'S STATEMENT
My work traverses the boundaries between traditional printmaking and new technologies in a progressively experimental manner. Recently I have been collaborating with fellow artist Catherine Hehir using a number of different media, but primarily print. The process of multiplicity in printmaking is strongly evident in the work presenting opportunities to develop expanded print forms.


Talking Trees
Etching
40.5 x 56cm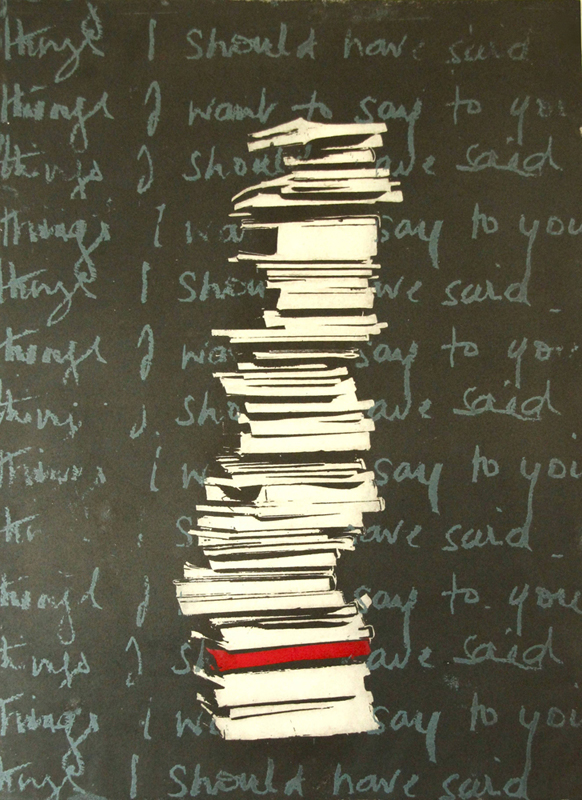 Things
Etching
47 x 63.5cm


Eclipse
Detail printed objects overall
1.83m x 2.44cm


Winter
Archival pigment print
40.5 x 112cm


Escape Shift
Collaborative work Catherine Hehir & Noelle Noonan
Paper installation 126 indivual prints comprising of etching , silkscreen, monoprint, silkscreen, lithograph, drypoint, cyanotype and lasercut
5 x 3m


Escape Shift
collaborative work Catherine Hehir & Noelle Noonan (detail)